Bow Fishing in Tampa
Topic: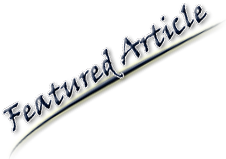 When The Fishing is Slow... GRAB YOUR BOW!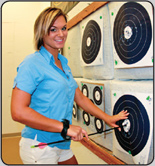 One of my favorite pastimes is hunting. When wintertime comes, I love to head to the woods and hunt all kinds of game. Over the years, many of my friends have become seasoned bow hunters in addition to rifle and gun hunting. Bow hunting is a sport that I have wanted to try for as long as I can remember, I just haven't had the correct opportunity to make it happen. That was until recently, while hosting the TA Mahoney's Reel Animals Radio show with Mike Mahoney.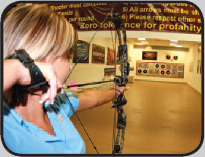 Our guest for that Sunday morning was Glen Grizaffee. Glen is very respected and well known in the bow shooting and hunting community. He has taken big game with a bow, all over America and in Africa. Just recently Glenn and his wife Heather Grizaffee became the new owners of The Archery Shop in Tampa on Florida Avenue. I recently visited their shop to check bows and prices, as well as looking at the fishing bows that Glen talked about while he was our guest on the radio show. Once I walked into the shop, the first thing I noticed was how clean and beautiful the place was. Hard wood floors and majestic mounts covering the walls make the shop an immediate eye opener. Glen's walls were covered with every bow a bow hunter could ask for, from equipment for beginner's to the most experienced hunter, his shop has it all. The Archery Shop also has an indoor shooting range 20 yards long with the best bow mechanics right there on the spot, to help you dial in your bow perfectly before you reach the cash register and the woods. They have much more than just bows, including all kinds of other hunting products from blinds to turkey callers. You name it… they have it! I was immediately drawn to the bow fishing display. I thought about how cool it would be to have a bow onboard for my fishing charters. As I talked to Glen and Heather about acquiring bow hunting equipment, they suggested hitting the water the next day to shoot some fish. And so we did!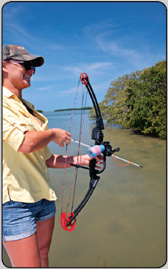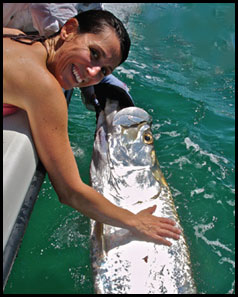 Glenn and Heather invited their shop helper Molly Shattuck to join us. Molly is also a seasoned bow hunter. We met at O'Neill's Marina, hopped on my Dorado 23 and headed out with three fishing bows and some live bait. First we hit the beaches in search of cruising Cobia around Egmont Key. We didn't see any Cobia, but we did shoot a big stingray for bait for a future shark fishing trip. Bow fishing is the best way to get your shark bait.
We covered many miles but we didn't cross paths with a bruiser Cobia. Anxious to draw our bows, we figured the next best thing we could shoot was some mullet. I am a huge fan of smoking mullet and making fish spread but I am only accustomed to throwing my 12-foot cast net for this fish. I have never shot or caught a mullet any differently. Not until today. As we approached a flat covered with jumping mullet, all three of The Archery Shop bow experts were drawn and ready to go. The next thing I knew arrows were flying and the mullet had no idea what was going on!! Heather was the first to have a mullet stuck on an arrow, it was a blast! For the first time I actually had a great time getting mullet on ice. I have never done it like this before and it started me thinking how my clients would like it at times when the fishing slows down. A bow fishing kit equipped with bow, arrows and the line and reel retriever is only around $320 dollars. All of the fishing bows are built for saltwater use. Glen mentioned that you don't want to use your hunting bow out on the water with the saltwater near your equipment.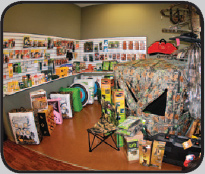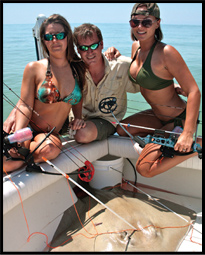 We all had a great day and I learned a lot from Glen, Heather and Molly. In the future we will shoot that cobia I'm sure. Of course the next day I had a charter and that big cobia came swimming by! Oh well! Take a ride to Glen and Heather Grizaffee's new shop called "The Archery Shop" located at 14520 North Florida Avenue in Tampa or call (813) 963-2222 for more information. Check out their amazing inventory of bows and hunting equipment. Enjoy a sport you can practice in your backyard. The Archery Shop's employees are super friendly, very passionate about their sport and are very helpful if you're a beginner like me. By the time you leave the shop, you'll gain a whole new appreciation of bow hunting. And, if you're like me and love hunting with guns then you just added more days to your hunting seasons!