Fishing the Keys in April
Topic: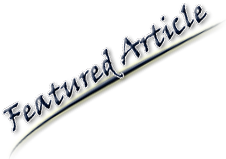 April Showers Bring…
Big smiles to anglers fishing in the Keys! No, we're not talking about the April showers that bring May flowers either. We're talking about the large schools of bait that are gathering off the Lower Keys this month and the predators that are chasing them! These are the telltale "bait showers" that are sure to bring a smile to even the casual onlookers face as they secretly visualize themselves hooked-up to whatever species of fish is making the bait "shower". Also known as "sprays", bait fish gathered in large schools will break the surface as they try their best evade and escape efforts to keep from becoming a meal for a larger predator fish.
For anglers in the Keys, these predators can be; Sailfish, Dolphin, Kingfish, Tuna, Cobia, Barracuda, Cero Mackerel or any of the many "other" species that have gathered for the feast. I have even witnessed Grouper and Mutton Snapper "showering" baits on the edge of the reef! I can't tell you how exciting it is to watch the food chain in action off the Keys in April. I've even had anglers on the boat suffer from the fishing version of "Buck Fever" and forget to cast their offering into the fray as they watch the melee in awe! One of the main "Target Species" for this style of fishing will be Sailfish. The secret is out; the Keys hold a large concentration of Sailfish in April. Not-so-many years ago, the thought of holding a Sailfish Tournament in Key West during the month of April was considered crazy.
Now, the World Sailfish Championship calls Key West home. The Championship brings some of the best Sailfish Teams around. April will make you use every style and tactic in your inventory. Kites, tailing Sails, live baiting, dredges and kites with balloons are standard fare for those targeting Sailfish. With an average of more than 300 Sails each year being caught by just the tourney boats, it's easy for me to say that there are enough Sails in the Keys to go around.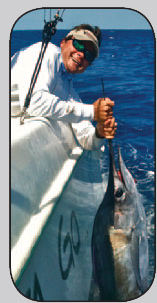 There's more than just Sailfish under those showers too. Dolphin will push up over the reef to get in on the action. This is one of the few times that it's not unusual to catch Dolphin in 30 feet of water and once you start having that kind of action, you pull the Kings and Cobia into the mix. Even if you find yourself just going for a boat ride offshore, bring a spin outfit and simple bucktailed jigs with you. Cobia will be out and about looking for the bait schools too. You'll want to have something ready when you happen across a school of Cobia loitering on the surface. The Keys in April aren't just for Anglers looking to get into the offshore waters. Tarpon anglers will be flocking to Keys harbors, channels and backcountry looking to test their mettle (and gear) against some of the hardest fighting and equally elusive fish swimming in shallow water. A couple of the hottest spots for Tarpon are Key West Harbor and the 7 Mile Bridge that spans the distance between Marathon and Big Pine Key. For anglers targeting the spring run of tarpon in the keys, weather typically isn't much of a factor. You can get out and fish from just about any type/size of boat or even from shore! I've seen Kayak anglers being drug around by 150lb Tarpon as well as anglers hooked up fishing from the jetties at Ft Zachary Taylor.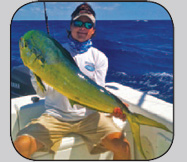 If backcountry is your game, go for the Slam! Conditions in April set up perfectly for Tarpon, Bonefish and Permit. Sight fishing these species in the backcountry is one of the most exciting styles I can think of when it comes to fishing. You not only have to find the fish, then you have to stalk it as quietly as possible so as not to spook it before you get in range to present your bait or lure. Once you get into range, you now have to "present" the bait in a manner to make it look as natural as possible (considering you just tossed it from a boat) while not spooking the fish. Even when you do everything right, the fish might not take the bait! That's just part of the thrill, and lure of, the backcountry. When it all happens just the way you planned…You get the reward of fighting a potential World Class fish in water clear enough to see the entire process and shallow enough to step off the boat and not get your knees wet! The memory of that actually happening is what keeps us going back. If it hasn't happened for you yet, it's the potential of it FINALLY happening that keeps you going back.
Regardless of your target species, April is without a doubt a great time to fish the Keys. Multiple shots at a variety of species may just put the "Law-of-Averages" in your favor if you are chasing your "first" catch. If you are already an accomplished angler for any of the above species, April will give you the chance to use all that you have learned. No two trips are the same, ever. Keep learning and you'll keep catching. Consider the Keys as "Spring Training" for anglers.
Contact Captain Rob Harris of Got TA Go Charters at (305) 587-9228 or by E-Mail at: rw_harris@msn.com.