Mackerel Fishing Tampa Bay
Topic: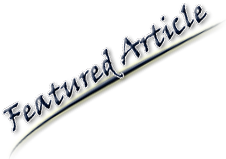 Mackerel Magic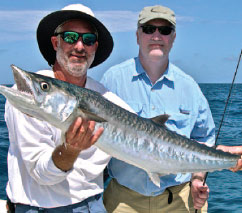 The fall migration of mackerel happens this month in the Tampa Bay area. The local unofficial kickoff is typically around Columbus Day. Fish don't have calendars to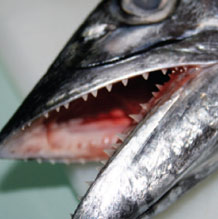 pinpoint migrations, however, so tuning in to daylight hours, water temperatures, moon phases, and bait availability will give you the same information the fish know and offer clues of when to be there.
The first places to look for mackerel are anywhere that you see concentrated bird activity. Terns and gulls will follow feeding fish and give away their location. The edges of the main shipping channel and perimeters of artificial reefs are where many fish will show themselves slashing through tightly balled up bait schools. Trolling spoons can be an effective method for finding fish early on, as this allows more territory to be covered in a shorter amount of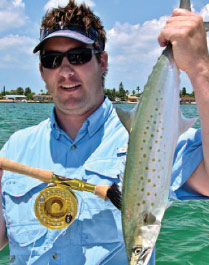 time.
Once the fish begin to fill into the area they will spread out to hard bottom areas, wrecks, or any structure that holds baitfish. The key to finding large concentrations of mackerel is focusing on their food source. Mackerel are not finicky eaters, but they will hone in on specific species in certain scenarios. Spanish sardines, scaled sardines, and threadfin herring are some of their favorites. Catching bait on site typically leads to immediate hook-ups, as it presents a bait that they are currently seeing in that particular area.
Live bait tactics are varied and all have pros and cons. Learning how and when to use these methods can be a matter of personal preference and experience. Generally, live bait fishing for mackerel falls into these basic categories: slow trolling, drifting, and anchoring. All methods can and should include chumming, as mackerel will respond to combinations of frozen chum blocks, fresh cut chunks, and handfuls of free live baits spread out in the mix.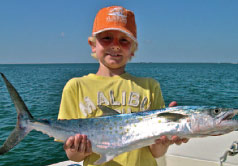 Varying the depth of live bait presentations is another key factor that fits into the equation of all three methods of trolling, drifting, and anchoring. Mackerel will feed anywhere from the top to the bottom of the water column. Figuring out what they want is a matter of spreading baits through the entire water column. Again, there are variables; anything from simple floats or biodegradable balloons to down riggers can accomplish the job.
With so many choices, how does one decide what to do? First, determine which mackerel you are after. Everything mentioned previously applies to both Spanish mackerel and king mackerel. Then begin to learn how to fine-tune your presentations to specific situations to lure in your targeted species. Considerations could include, but not be limited to current flow, bright, overcast, or low light conditions, wave action, wind speed and direction, type of structure being fished, as well as the size and type of bait being used.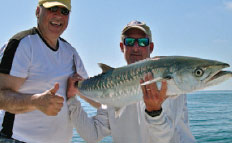 Yes, that's a lot to contemplate.
Go experiment, learn, and have fun.
Capt. Brent Gaskill charters both inshore and offshore in the St. Petersburg area. He can be reached at 727-510-1009. Instructional trips aboard personal vessels are also offered that provide an excellent hands-on learning experience. View Capt. Brent's web site at www.summervacationcharters.com or contact by e-mail at captbrent@summervacationcharters.com.