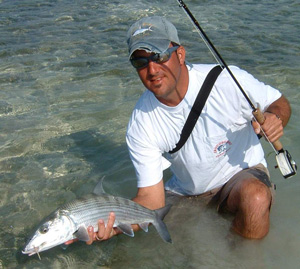 Capt. Bret Gamrot
Captain Bret Gamrot first fished the wild waters of Tampa Bay in 1978 when he was just 9 years old. His father took him fishing twenty miles offshore out of John's Pass digging for grouper in the Gulf of Mexico. His love for the water grew even more to include inshore fishing, fly-fishing, and SCUBA diving. His first tank dive was in the Florida Keys at age 12. During the summer of 1992 Bret traveled to Alaska for two months hiking, fishing and living off the land. He credits his Alaska trip as the pivotal experience that inspired him to take a career path in the outdoors.
Bret has also traveled to Costa Rica, Guatemala, and the Bahamas, chasing many fish with his fly rod. Since 2001 Capt. Bret has published Onshore-Offshore Magazine. As the magazine has flourished, he has continued to photograph and write about his fishing, hunting and traveling adventures.
Today Captain Bret guides and fishes out of St. Petersburg Florida. Bret also ads, "I just always thank God and my parents for moving down here from Pittsburgh PA and showing me a wonderful life on the water and the outdoors."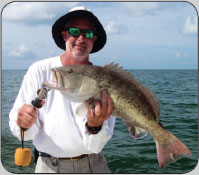 Captain Brent Gaskill
Captain Brent Gaskill is a 4th generation Tampa Bay native who grew up
fishing the local waters of Mullet Key and Fort DeSoto Park. Over the years
he has honed his skills to become one of the most successful guides on the
Bay and near shore waters of the Gulf. Operating as a full-time captain
since 1998, his depth of knowledge, patience, and sense of humor makes a
day on the water enjoyable for everyone from novice to expert. As a former
high school instructor his willingness to teach is evident. Families have
always been welcome as he has a knack for putting kids on fish.
Capt. Brent has become a TV and radio personality with regular appearances
on Hooked On Fishing, The Average Angler Adventures, 47 Fish Finder, and
Capt. Mel's Fishing Conversations. His varied fishing reports in the St.
Petersburg Times, feature magazine stories, and seminars provide up to date
information for much of the angling community.
Capt. Brent is a natural in the charter business. Come aboard and allow him
to guide you to an exciting and memorable day of fish catching fun.
Capt. Brent Gaskill
727-510-1009
www.summervacationcharters.com
mailto.captbrent@summervacationcharters.com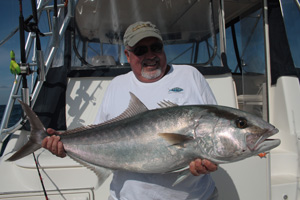 Merle Seamon
In addition to writing for Onshore Offshore, Merle Seamon is also Editor and part owner of Onshore Offshore Publishing. Mr. Seamon has always loved fishing and being on the water and has fished in numerous exotic locations worldwide including Costa Rica, Guatemala, Belize, Honduras, Tanzania, Botswana as well as throughout the United States. In addition to his work with Onshore Offshore he also has had careers as a zoo architect and a marina owner and he currently performs consulting for the permitting and design of marinas and animal related attractions.
He has owned and operated boats ranging from 11′ to over 80′ and has cruised extensively throughout the United States on the Gulf and the Atlantic as well as many rivers and lakes. Mr. Seamon currently captains his 48′ Ocean Sportfish for offshore fishing out of Tarpon Springs.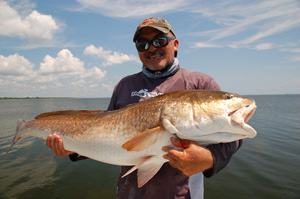 Capt. David Rogers
Captain David Rogers is full-time guide on the world famous Mosquito Lagoon. He has been fishing the waters of Florida for over 35 years and has fished the Mosquito Lagoon since 1993. Captain David is known for catching Giant 'Slobberknocker' Redfish.
Captain David has been a guest many times on other radio programs such as Florida Sportsman radio with Captain Jim Ross and the 'Reel Animals' radio show with Captains Mike Anderson and Billy Nobles. He has also filmed 4 TV shows with the 'Reel Animals' which can be seen on Sun Sports.
The captain is also on pro staff or guide programs for many fine companies in the fishing industry. Those companies include: Hell' Bay Boatworks, Rip Tide Saltwater Lures, Daiichi Hooks, Power Pro Fishing Line, Karma Rods, Quantum Reels, MirrOlure, Optima Batteries and Costa Del Mar Sunglasses. Using quality products is a must for success. He also writes for Onshore-Offshore Magazine and the Sanford Herald.
Captain David can often be found conducting fishing seminars at Gander Mountain and various fishing events. He enjoys talking to other about his passion, fishing! He was also the host of the 'Hawgwild Fishing Show' which aired from October 2007 to April of 2009 on ESPN WIXC 1060 Space Coast and WAMT 1190 Orlando. The show covered all types of outdoor events with the main focus on fishing.
Captain David's new project is a show called 'Reel Fishing' with host Frank Viola III. The show has many celebrities form the NFL, PGA, MLB and country singers. It is currently on the internet and soon will be on network television.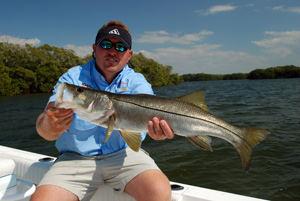 Capt. Jason Prieto
I was born and raised in the Tampa area, spending most of my childhood involved in all types of sports. I grew up on the baseball and football fields as a kid and the days that I did not have practice or games I had a rod in my hand fishing. I have spent most of my life on the flats of Tampa Bay fishing for the most sought after species.
One of my many dreams growing up was to be a professional guide; In 2004 I took the first step towards that goal by get my captains license and started Steady Action Fishing Charters Inc. Since then I have become an outdoor writer to share my knowledge with others through monthly articles. I have always had a competitive edge in me that relates back to my days as a child playing sports. This has carried with me through the years by fishing and placing on the top of the leader boards in numerous tournaments. I have participated in Pro staff programs for top companies like Daiwa, Canyon Bay boats, Calusa Nets, Daiichi Hooks , and Power Pole.
In 2006 we started our radio show Outdoor Fishing Adventures on 1040 ESPN radio. This was another way to share my knowledge and fishing experiences on a weekly basis. Fishing has been a big part of my life, so come share the experience.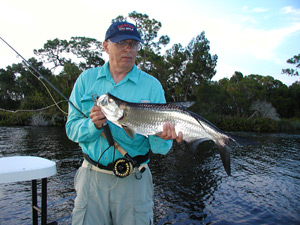 Capt. Pat Damico
I started fly-fishing and fly tying at the age of ten. Growing up in the Pocono Mountains area of Pennsylvania provided easy access to streams and small lakes where I fished for trout and bass. I was lucky enough to have a few older fly fishermen around to guide me through my early learning experiences. A biology degree in college, then Dental School, and a couple years as a Dental Officer in the Navy gave me the opportunity to see many different areas of the northeast and soon my love of fishing became a passion. Later, I fished the Freshwater Bass Tournaments in New York and Canada where walleye, pike, northerns and muskies were my target. My proximity to the Great Lakes had me chasing salmon, steelhead and large brown trout. The fall migration of some of these species provided an excellent fishing experience in the rivers nearby. My first saltwater fishing trip with a fly rod was to Mexico for bonefish, about twenty years ago. This was a new and exciting experience for me and later took me to parts of Florida, the Bahamas, South America as well as many other tropic locations.
My fishing experience has grown over the years and I now offer clinics on saltwater fly fishing at several fly shops in Pennsylvania and Florida. I also give fly tying demonstration seminars at local fly fishing clubs. I've written monthly articles on fishing for Onshore-Offshore Magazine, since its debut. Flatsclass, as well as Capmel.com's websites have published articles that I've written, and my articles have also appeared on other websites devoted to fly fishing. On several occasions, I've co-hosted the Capt. Mel radio program on 970 WFLA on Saturday mornings and I was also a guest on his TV fishing show.
I am an avid fly-tier with several websites Fly Fishing in Saltwaters magazine recently published an article highlighting one of my fly patterns called Bead Butt Baitfish. Full Creel website has appointed me moderator of their Saltwater and Southeastern forums.
Presently, I use a seventeen-foot Maverick flats boat, primarily fishing Tampa Bay and its tributaries. My specialty is fly and light tackle fishing. Snook, redfish, trout, jacks, mackerel, tarpon as well as other seasonal species provide year 'round sport for my clients. Fly fishing for snook around lighted docks rates very high on my list of great local fishing.
As a Certified Master Casting Instructor of the Federation of Fly Fishers, my clients can benefit from my teaching and fly casting experience. All levels of experience, as well as ages, are welcome.
I am an active member of The Tampa Bay Fly Fishing Club and the Federation of Fly Fishers and participate in Redington, Ross, Sage, Cortland, Rio, Minn Kota and Temple Fork Outfitter Guide programs.
Area coordinator for Project Healing Waters Fly Fishing for FL, MS and AL.
U.S. Coast Guard licensed, and fully insured. My commercial fishing license covers clients while fishing from my boat.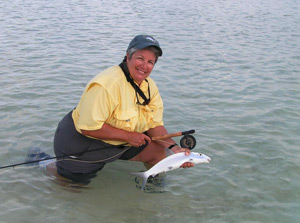 Jackie Otto
I am a member of the Florida Outdoor Writers Association and a staff writer and photographer for Onshore Offshore Magazine since July 2001 specializing in monthly fishing, hunting, kayaking and camping articles. Currently writing fishing reports for the St. Petersburg Times' Captain's Corner. Authored and published my first book, "Mr. Snook" a biography of Lorin Peruche, and I have been featured on Hooked on Fishing and The Average Angler television fishing shows. I have been a speaker and presenter at Hurricane Pass Fishing Club, Old Salts Fishing Club and numerous fishing classes and seminars. I am avid in the sports of hunting, (deer, duck, quail, turkey, hog, squirrel, etc.) fishing, (tarpon, snook, redfish, trout, cobia, etc.) kayaking, camping and outdoor photography. I am currently employed at Betts Fishing Center, a fishing tackle retailer in Pinellas County and build custom fishing rods and repair fishing rods three days a week. I am affiliated and active member of the National Rifle Association, BASS, Ducks Unlimited, Women in the Outdoors, National Wild Turkey Federation, Old Salts Fishing Club and Georgia Outdoor News.
I was born and raised in Pinellas County, married since 1969 to my high school boyfriend that has the same outdoor enthusiasm as I do. We have two adult married children of which their families produced our three beautiful grandchildren. I have lived a good life, I want to live a long life, but if God wants to take me now, I have accomplished more in the outdoors than some people can only dream of. Trophies and photos fill my home.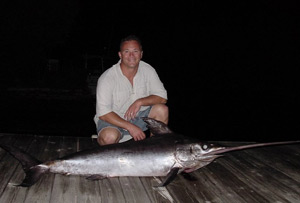 Capt. Rob Harris
Capt Rob Harris lives and fishes in the waters surrounding Key West. Even though his first love is fishing the Blue-Water for Marlin, Swordfish, Dolphin, Tuna and Wahoo he is also an accomplished reef, wreck and gulf fisherman.
Tournament fishing is a specialty for Capt Rob, and his anglers have excelled at all levels of competition in a variety of Tournament formats. His anglers have won 3 Master Angler Awards for the Key West Fishing Tournament, a Junior and Pee Wee Grand Champion for the IGFA Junior Championship, numerous Top 3 or 1st place finishes in the Key West Marlin Tournament in both the Marlin and Fun Fish divisions and he was recognized for Top Guide Achievement Overall in the 2009 Key West Fishing Tournament.
With his eye on the future of fishing, Capt Rob has been participating in a Dolphinfish tagging program since its inception and holds a seat on the SAFMC Snapper/Grouper Advisory Panel. An innovative angler, he is known as one of the first fishermen to have caught Swordfish on Artificial Squid.
Angler education and instruction is one of his best traits. He has the patience and knowledge to teach others how to fish while keeping protection of our resources at the forefront.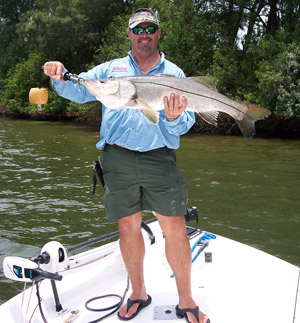 Capt. Mark W. Gore
Capt. Mark Gore grew up in the state of Florida where four generations of his family has lived in "The Fishing Capital of the World". His passion for the outdoors began as a young child, while accompanying his dad and brother as they pursued inshore species on the Flats and Back Country waters of Tampa Bay. Working with his father Capt. Woody Gore from early on in a family owned Guide Service, Capt. Mark became interested in a career as a full time guide and hunting outfitter himself.
In 2004, he ventured out on his own to become owner of Guide Headquarters, specializing in Flats and Backcountry Fishing in Tampa Bay. Thanks to a highly motivated and hardworking family team he has been able to pursue an additional career in the Hunting Industry working with local ranchers and state land owners on finding that special hunt for Osceola Turkey, Wild hogs and Gators. Capt Mark's love for the outdoors along with his extensive background has lead to the development of his Outdoor Writing for top publications such as Onshore Offshore Magazine. His belief in the ethics of fishing and hunting and the high regard for sharing the outdoors with your family and all young people is a key factor in his great success.
Capt. Mark feels that a major component to any great business and part of the success of his company Guide Headquarters is the gratification they get by teaching their love for the outdoors and the pride they take in their customers having Memories for a lifetime!
Capt. Mark W. Gore
Outdoor Writer, Guide & Speaker
Guide Headquarters – Fishing-Hunting & Outdoor Communications
Cell: 813-434-5504  

Email:  mgore2@tampabay.rr.com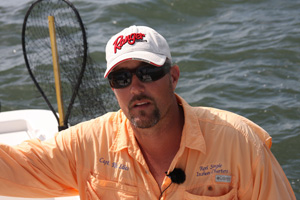 Captain Ric Liles
Captain Ric is a full time guide and native Floridian who grew up fishing the waters of Tampa Bay's south shore. He now fishes the waters from Clearwater to Punta Gorda, but still calls Tampa Bay's south shore home. With almost 40 years of fishing in the Bay the thrill has never gone away. Ric co host a radio show on Saturday mornings on ESPN and enjoys fishing tournaments but his main passion is being a charter captain and embraces the challenges of the teaching side of the sport. One thing that he always says is "Remember: don't let your kid be the one that got away, take them fishing". Ric is also the founder of K9 Fishing Rods and enjoys the off the water side of the industry doing promotions as well.
Captain Ric Liles
(813)601-2900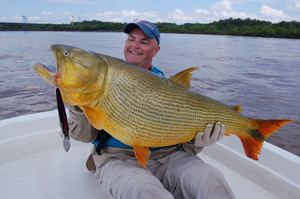 Paul Bristow
Paul Bristow has written articles for various outdoor publications since 1999. With roots in the suburbs of Chicago, Illinois, his articles were initially published in popular periodicals such as Midwest Outdoors and Fishing Facts. Paul began writing for Onshore – Offshore magazine in August of 2010. He has made appearances on bay area television shows such as Hooked on Fishing on Bright House Networks Catch 47 and Fish & Chip on Fox 13.
Paul has been fortunate enough to fish nearly ½ of the 50 United States, and more than 10 foreign countries. His travel abroad has taken him to the following countries: Argentina, the Bahamas, Brazil, Belize, Canada, the Cayman Islands, Costa Rica, Mexico, Panama, Thailand, and Uruguay.
Paul moved to Apollo Beach, Florida in 2003. He currently runs Apollo Beach Bait & Tackle Company, LLC which manufactures and distributes the popular Love's Lures line of baits and terminal tackle. Paul does most of his fishing in the Tampa Bay area by kayaking. One of his favorite hobbies is pursuing exotic species in South Florida.
Questions can be e-mailed to Paul at loveslures@msn.com.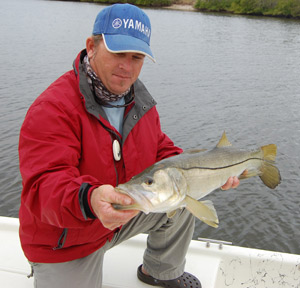 Capt. Tim Whitfield
Capt. Tim Whitfield was born in Tampa, Florida. He is a third generation Floridian. Fishing has been a way of life for Tim and his family. As a kid Tim fished with his Dad and Uncles for largemouth bass, catching his first trophy fish at the age of 12. Tim's Dad and Uncles taught him the basics of tying knots, how to use artificial lures, and how to care for the
environment, Tim's great uncle Wayne "Boots" Harrison was a tarpon guide in the 1950's in Boca Grande. Tim is now handing down the knowledge to his kids, as the cycle begins again!
Tim also co hosts Slot Limit Radio with Captain Billy Turney, on Thursday evenings at 6:30 pm. http://www.slotlimitradio.com
Tim fishes the waters of Anclote key, Tampa Bay, and Boca Grande. Kids are always welcome and trips can be customized to fit most needs.
813 714 0889 tim@swiftfishcharters.com